Dance classes
Simonson Technique created and developed by master teacher Lynn Simonson is an organic approach to movement that prepares the body to dance in a way that is anatomically intelligent and somatically aware. The goals of Simonson Technique training are to eliminate the pre-disposition to injury from previous mis-alignment patterns, develop and support the body in a way that allows efficient and free movement, and, to experience the joy of dance with longevity and wellness. The class begins with exercises that focus on technique and alignment, followed by a dance combination.

Yoga classes
Yoga means union between body mind and spirit but also the connection between your inner self and higher self and this is what you experience in Lynns yoga classes. The class includes gentle asanas (body postures), pranayama (breathing teqniques) and guided meditation. Lynn's yoga class is a deep journey inward.

Anatomy awareness
The Anatomy Awareness class will focus on muscles of the hip and lower back. We will explore both turnout and parallel rotation muscles muscles. It is a hands on class that teaches muscle release techniques. Wear dance clothes and bring a towel.

Private dance coaching
This session will focus on alignment and technique. Katiti will explore the students' plumb line, postural habits and dance technique.

Private Simonson Method of Teacher Training/ body work
The private sessions are for teachers already certified in Simonson Method of Teacher Training, and who want more information on the teaching and progression of higher levels, as in intermediate or advanced classes.

Simonson Method of Teacher Training in Stockholm
The Simonson Method of Teacher Training is taught by Lynn Simonson, creator of the Simonson Technique and a founder of Dance New Amsterdam (formerly Dance Space Center).

Lynn Simonson created this technique more than 35 years ago when she began teaching individuals with previous injuries and/or alignment problems. The development of the technique came through anatomically studying the limitations and possibilities of each student's body. Two principles of Simonson Technique, for example, are that dancers work within their natural turnout line without forcing their range of joint motion, or, not hyper-extending their knees. Lynn's goal was to create an intelligent and logical way to prepare the body for dance without injuries.

Within the Simonson Method of Teacher Training, there is a detailed study of all the aspects of a beginner Simonson class, discussion of muscle groups and skeletal structure. Lynn Simonson trains teachers to examine each dancer's anatomy, alignment and range of motion in order to determine any limitations or predispositions to injury. There is much emphasis on communication skills and understanding how a student learns, and, how best to present the information needed. There is individual practice teaching in each session, and a strong homework load. The course will be held three sections during one year:

- will be given in Stockholm over two summers

Requirements for Simonson Method of Teacher Training:
The participant must be on an intermediate level in Simonson technique. The participant´s level must be verified by Lynn Simonson, Katiti King, Maria Isefält, Ninnie Andersson or Petronella Lindén.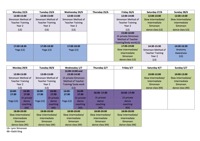 One single class (dance & yoga classes, anatomy awareness)
300 skr

One single class for students
250kr
(verified with Studentkortet, CSN-, ISIC-, or Mecenat card)

Offer for students
Go the first class for free if you bring another student.
​(both have to verify with Studentkortet, CSN-, ISIC-, or Mecenat card)

1 hour private dance coaching
650skr

1 h privat session: Simonson Method of teacher training
800skr

5- class card only valid for 2015 (dance & yoga classes)
Total amount 1300skr

All dance & yoga classes and anatomy awareness
Total amount 3800skr

For members only: 10- class card only valid for 2015
(dance & yoga classes)
Total amount 2300skr